The newest addition to our services are Sakha Gift Vouchers. Tailor made for your special ones, they come in 3 different packages and can be availed in New Delhi, Jaipur, Kolkata and Indore. Further details are as follows-
| City | Package | No. of Hours | No. of Km | Amount(INR) | Extra Hours | Extra Km |
| --- | --- | --- | --- | --- | --- | --- |
| New Delhi | Indigo/Accent | 8 | 80 | 1410 | 60 | 13 |
| | Indigo/Accent | 4 | 40 | 880 | 60 | 13 |
| | Chauffeur on Call | 8 | – | 800 | 100 | – |
| Jaipur | Indigo/Accent | 8 | 80 | 1100 | 150 | 9.5 |
| | Indigo/Accent | 4 | 40 | 700 | 150 | 9.5 |
| | Chauffeur on Call | 8 | – | 600 | 80 | – |
| Kolkata | Chauffeur on Call | 8 | – | 660 | 60 | – |
| Indore | Chauffeur on Call | 8 | – | 450 | 50 | – |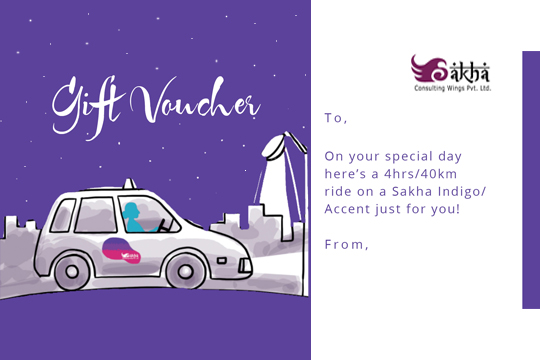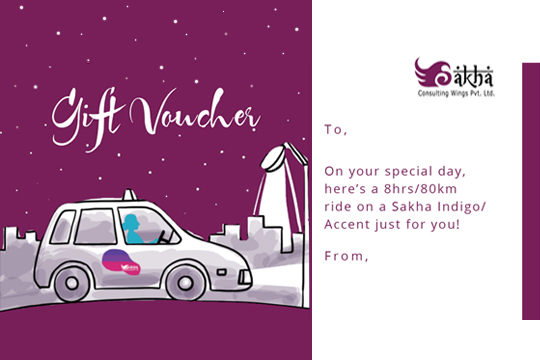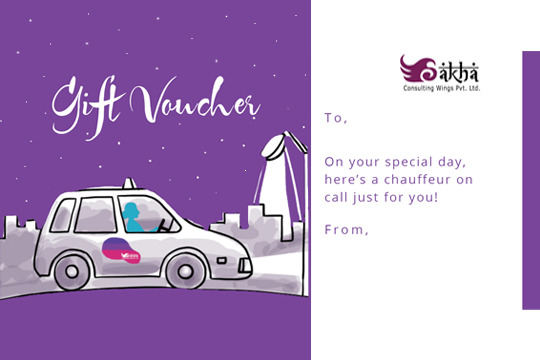 Terms and Conditions
The gift voucher can be picked up from any of the Sakha offices.
Request for booking to be made 24hrs in advance on 9999193004 (New Delhi), 9783888872 (Jaipur), 9051606189 (Kolkata) and 9669809642 (Indore).
For Sakha cabs a 5% GST of the invoice amount will be charged.
For the chauffeur on call services an 18% GST of invoice amount will be charged.
Voucher is valid for 6 months from date of purchase.
Booking available only from 6AM to 10PM.
Parking, toll, guide charges, monumententry charges etc to be borne directly by user.
Time and kms. are always calculated from Sakha garage to Sakha garage.
Chauffeur subsistence included.